Applications
The plastics Plastic Concepts provides can be found all around us in our daily lives. From gym equipment to product displays at the mall, you probably see them every day without even knowing it.
Some of the many industries we serve include:
Aerospace/Aircraft
Architectural
Construction
Electronics
Entertainment
Food and Beverage
Medical
Point of Purchase
Retail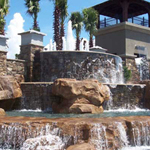 Architectural Uses
Plastic Concepts regularly supplies plastics, mostly acrylics and polycarbonates, to the architecture industry for display and aesthetic purposes. Frosted acrylics are a common choice for this industry because of their clean, modern appearance.
The photos below were taken at the site of one of McGrane Design's recent office projects using Plastic Concepts products. In addition to light boxes, Plastic Concepts also serves the architecture industry by providing cut panels and rods, custom fabricated acrylic furniture and custom display systems.
These products are ideal for the individual looking to add a contemporary look to his or her living space or the business looking to create a modern, professional image.
Food And Beverage
Plastic Concepts proudly serves the food and beverage industry through both its distribution and fabrication services. We supply large quantities of HDPE sheets cut to size to food processing factories and restaurants alike. This material is widely used for cutting boards because of its physical properties and FDA approval.
A wide range of our custom fabricated plastic products are also used by the food industry, which include menu holders, plastic trays and food display cases.
Point Of Purchase
Plastic Concepts' superior point of purchase products are in countless retail stores across Southern California. Our custom products include hair product display cases in salons, shelving units in malls and make up display trays as shown to the left. Plastic Concepts has become a top choice for high end retailers because we are able to offer quality that reflects positively on the products our pieces display.